Statistics show that Black youth lack confidence in themselves and because of that reality; they are reluctant to venture out and try new experiences because it is foreign to them and maybe even overwhelming. As Black professionals with real life experiences in the workplace & in post secondary schooling, we believe it is our duty to share what we've learned with the next generation as a means of advancing their beliefs & creating a reinforced pipeline to success.
The EDGE Cotillion Ball
Ready to conquer the world!
Participants are given the opportunity of community networking which allows them to build connections in areas of personal interested. Volunteering in various community events such as The Harry Jerome Awards, The Black Diamond Ball, Jean Augustine York University Chair events and more! 
Community volunteering provides a healthy boost to self-confidence, self-esteem, and life satisfaction. When doing for others and the community, you inherit a natural sense of accomplishment, pride and identity. We are working to build structure on and off the job.
What We Achieve: We are committed to helping our community's youth develop the life skills and attitudes that will ensure their future success and happiness.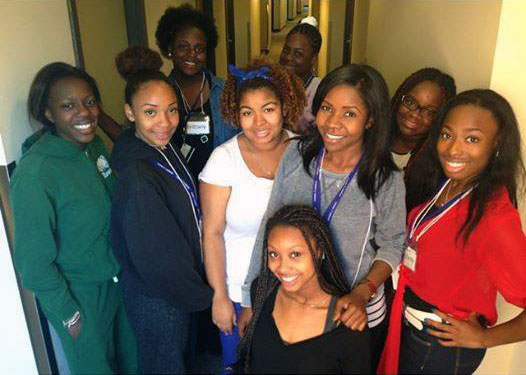 Empower
Etiquette & leadership are vital skills for success.
"I am proud to be part of this program that changes and impacts young lives. Together with education, we believe that style, etiquette, and leadership are vital skills for success; our focus is on teaching our participants the poise and tenacity that will help them make powerful and lasting first impressions!"
~Pat Gloudon, Founder
Develop
Developing Leadership Skills
Designed to empower and motivate, the EDGE engages participants in a variety of leadership workshops, team building exercises and includes a weekend retreat.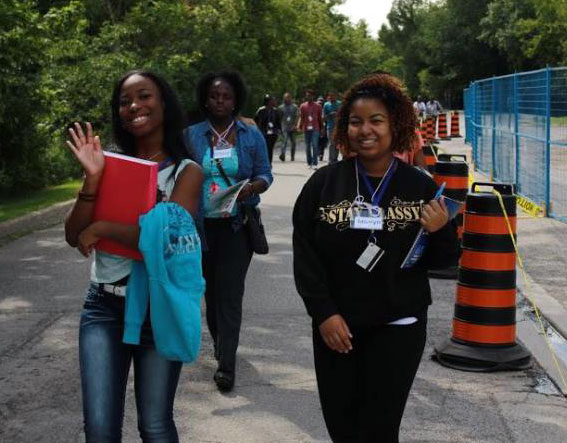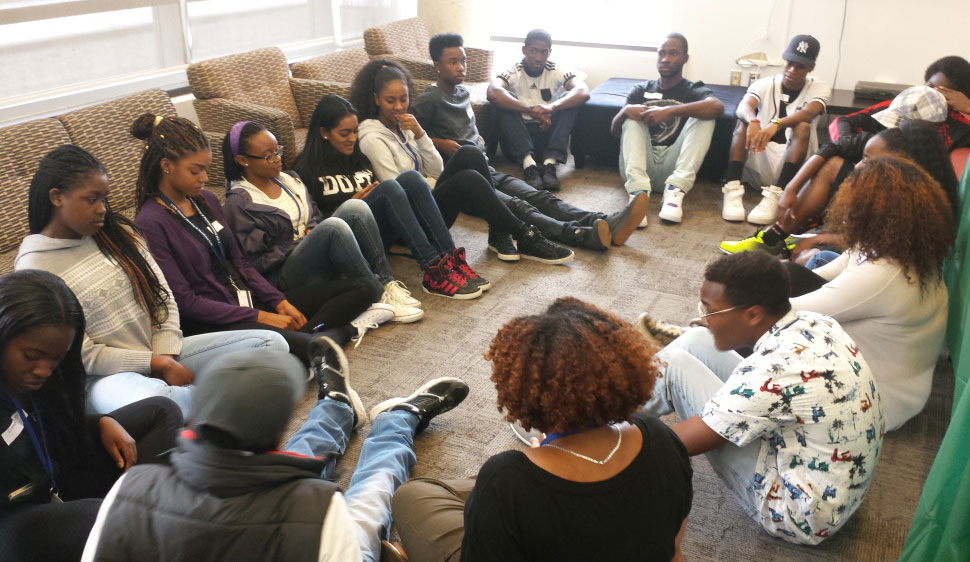 Grow
Growth Workshops
The EDGE provides diverse workshops that expose participants to information and techniques not offered in a conventional classroom.
Engage
EXPLORE THE EDGE
The EDGE Program offers black youth – male (Beau) and female (Debutante) between the ages of 16 and 19 – a unique experience that Empowers them to Develop and Grow their social and professional Engagement skills.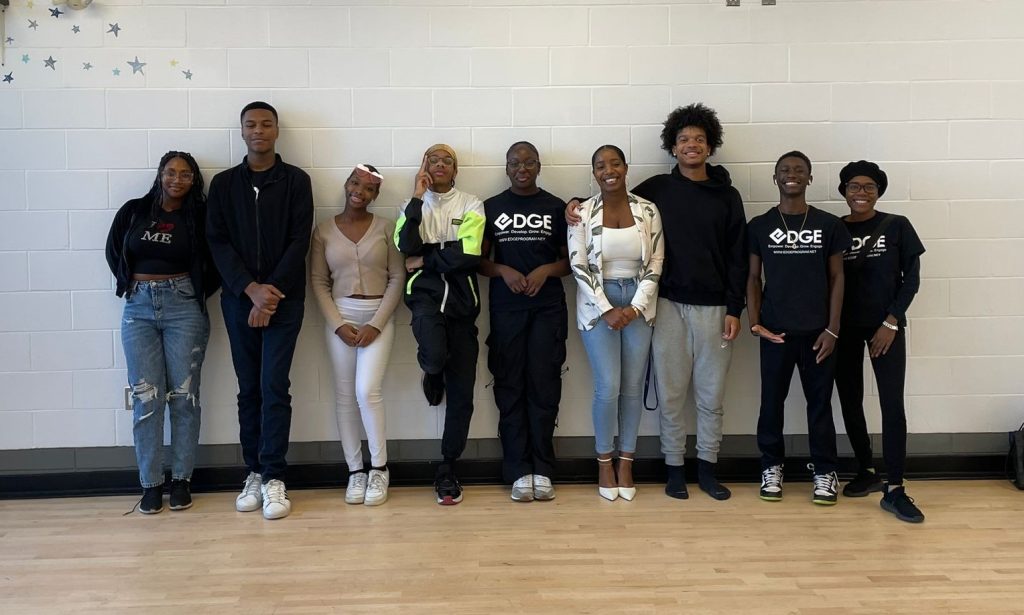 Loved by Many
"My name is Shanii and I was a Debutante for the Cotillion Ball program in 2008. The program helped me to come of my shell and showed me that I must always go after my dreams no matter how scary it may be. Since the program I have graduated from York University, I am working as a Law Clerk and I will be applying to law school. Without the program and hard work I may have never realized my potential to achieve everything that I desire."

Stand out

"My daughter was so excited to see that she was going to experience living in a dorm for a weekend and connect with her new friends. She absolutely loved the workshops and activities to the point where she has told her Drama school teacher about one of them and they are going to try it out in class! I am so proud of her involvement with the YDP program that will help groom her for the future and also help shape her into a wonderful young lady."

Wonderful

"The workshops that were offered through YDP have been very empowering for all of our young people. The youth involved in this program have been offered support, direction and information to help guide them toward their future endeavors. I'm pleased to know that all the youth, including my son, will gain the confidence, skills and etiquette that conventional schools do not offer. I recommend this program to any family that would like to see their children excel and develop into future leaders."

Empowering for all

"If you had any doubt about enrolling your child in The Youth Development Program, forget about it! You will not regret your choice. This program has impacted our daughter in the most wonderful of ways. I've never seen her so passionate about anything. It has instilled within her a new sense of confidence and a strong belief that "the sky is the limit." Enrolling our daughter in the program is the best choice that my husband and I have ever made."

No Regrets

"I would like to thank everyone involved in the amazing retreat we had with the youth from the E.D.G.E. program; June 8-10, 2017. What an amazing group of youth and what an amazing energy of love and kindness we were able to generate(AWESOME). It is with this in mind that I would like to ensure that we stay connected as cultural caregivers of the most precious cargo we have; our youth."

Cultural Caregivers

"This program has transformed my daughter to know the importance and value of believing in herself and her abilities, of being more social and of becoming an active and responsible member to society."

Transformed

"The EDGE Program is both useful and necessary for youth in our community. I have seen great improvement in my child since she enrolled in the program. The workshops and facilitators convey a wealth of important information to participants, who are now equipped with knowledge they will take with them throughout their journey to Success. "It takes a village..." Thank you to The EDGE Program Committee."

Wealth of Information

"We are most delighted that we decided to enroll Dominique in the EDGE Program! This opportunity has encouraged our daughter to showcase her natural grace and has been instrumental in teaching her how to network and sell her strengths. The EDGE Program's values align perfectly with what we as parents have taught Dominique and what we envision her becoming in the future. The excitement that she expresses when discussing what she learned in the various workshops is in itself, rewarding.

Natural Grace

Thank you for your relentless efforts in keeping our children on check. We truly appreciate the entire committee. I am doing my part now by promoting the event on social media and getting the word out for future years. Blessings!

Thank You!

Thank you, to the parents and The EDGE for giving us this wonderful experience. My guest were blown away and are going to register their children in this awesome program.

Wonderful Experience

Thank you to the EDGE Committee  for your hard work and dedication to our children. Your efforts have made a difference in our Children lives now and for years to come.

Making a Difference

Thank you edge committee for an amazing experience!!

Amazing Experience

Tracy, you and the Edge West team did an amazing job with this inaugural program! You could see and hear the pride, joy, and confidence you helped to instill in the young people. All of our guests were thoroughly impressed with the evening.  A great big congratulations to you, team, volunteers, participants and parents who made this possible.

Amazing Job!

Dear Miss Tracy.  You truly are appreciated.   Excellent handy work with the Gowns. May all the 'growing pains' of year one be a blessing for the future of the EDGE program.

Truly Appreciated

It was phenomenal, I personally had a blast, fought back tears all evening, so much joy and pride. So excited to see what the next one brings. Tracy you did an amazing job, it's not easy managing all these little folks and all these different personalities, then executing such an elegant event.

Phenomenal Program

Tracy great event my dear, the only upside was that the teens needed to have heard the messages from the keynote speakers. As they did an excellent job in portraying black Excellence and that the road they are on is that of greatness, regardless you have my roses. Well deserved you did an awesome job

Awesome Job!

Hello Tracy. Just wanted to share my appreciation for your leadership and the support of your team that pulled off a marvellous event last night. You've moved mountains these past few months to reveal the diamonds within our young leaders. Keep moving forward and looking upwards.

Marvellous Program

What a wonderful program. Thank you Tracy and team for your hard work and commitment.

Wonderful Program

Thank you so much Tracy for all your wonderful guidance time energy, effort, and support… last night was such a memorable night. They're going to remember for the rest of their lives. the past few months have been really intentional, meaningful and life-changing. Thank you to you and your volunteers.

Thank You!

Tracy,

I want to thank you for a wonderful Sunday evening. This program flew by so quickly! I also want to thank you for keeping everything together, in line and … on time ( Parents included ) this is not an easy thing to do. You did it with grace, patience and professionalism. You handed out flowers to the volunteers and the people on the board that assisted with this wonderful program, but it is in fact YOU that deserves all the flowers. This program could not be what it was without you and I am glad you were asked to do it, because I couldn't think of anyone else who would do a better job.

Congratulations on a successful program!

Wonderful Program

Tracy,

I have known you for quite some time. I look up to you, as a mother to Jaz a big sis and as a friend.

This program has helped my kids mature and grow. You and Jaz have been wonderful role models for my daughter and welcomed my son as family. I can't thank you enough.

I am so proud of you.

If there is anything you need ever, call me. I want to assist next year, if I need to do something formal let me know. I support you

Role Models

Good morning my well spent Sunday evening enjoyed to he max. Congratulations on our effort keep up the great work

Congratulations

Good evening Tracy and team,

We just wanted to say a BIG THANK YOU to you and your team for coordinating such an amazing program. Hats off to ALL of you on a job well done. Sarah very much enjoyed the program and learned so much. She thought she was going back and was disappointed that it's all over for now. If there is anything we can do on our end to help support this program, please do let us know. Happy to spread the word and encourage other families to get their children involved.

Thanks again and have a great Night and week ahead.

BIG THANK YOU
EDGE News